Uldin
Uldin 

Weapons

Great Long Axe, Throwing Spears

Armor

Nordic Elite Helmet, Kuyak, Splinted Greaves, Bear Gloves

Likes

Dislikes

Born at

 

Connections

Grund

Reputation

Martial 

Noble

Yes 

Cost

2,500
Uldin is a Volheere raider and the child of a Volheere Jarl. He decided that he wanted to adventure with the Southern lords and left home and his lordly duties to go and become a mercenary. He is a very strong warrior, and if trained properly can become your strongest companion.
As a lord, Uldin trains Volheere troops including Volheere Mercenary Warlords.
Stats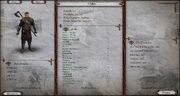 Ad blocker interference detected!
Wikia is a free-to-use site that makes money from advertising. We have a modified experience for viewers using ad blockers

Wikia is not accessible if you've made further modifications. Remove the custom ad blocker rule(s) and the page will load as expected.