Tamaris is a Geldarin elf hiding her true identity. Smart, charming, skillful, deadly with her sword and her bow, she can make an excellent companion and a dangerous enemy.
As a vassal, Tamaris trains Geldarin troops.
Tamaris
Tamaris

Weapons

Geldarin Warblade, Elven Elmwood Bow, Elven Arrows, Elven Ranger Arrows

Armor

Elintoran Royal Archer Armor, Noble Enchantment, Elven Black Boots, Spider Silk Gloves, Elvarie Spirit Horse

Likes

Dislikes

Born at

Lesbere

Connections

Forniron

Reputation

Cunning

Noble

Yes

Cost

50,000
Stats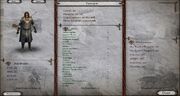 Ad blocker interference detected!
Wikia is a free-to-use site that makes money from advertising. We have a modified experience for viewers using ad blockers

Wikia is not accessible if you've made further modifications. Remove the custom ad blocker rule(s) and the page will load as expected.