Slyter is an Imperial Spy working for the Klyrintin Empire. He plans to befriend you to know more about Perisno and how to invade it for his Empire. However, he unexpectedly befriends you and renounces his allegiance to the Empire. At a certain point, he will also tell you everything and more about the Imperial Empire. He is, in short, a man of many faces.
As a lord, Slyter trains troops of Kingdom of Perisno.
Slyter
 Slyter

Weapons

Scramasax, Throwing Daggers, Leather Covered Round Shield

Armor

Pilgrim Disguise, Leather Boots, Leather Gloves, Hunters Hood, Black Courser

Likes

Dislikes

Born at

 

Connections

Uliastai

Reputation

Roguish

Noble

No 

Cost

600
Stats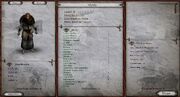 Ad blocker interference detected!
Wikia is a free-to-use site that makes money from advertising. We have a modified experience for viewers using ad blockers

Wikia is not accessible if you've made further modifications. Remove the custom ad blocker rule(s) and the page will load as expected.