Silvethiel is an Elintoran Elf coming from an ancient noble family. She is the youngest of five children and so she has a lot of free time. She spends that free time traveling, much to the dislike of her parents, but since she is not that 'important,' they let it go. She is also a trainer of elves in her family's personal army so she has a lot of skill in training.
As a vassal, Silvethiel trains the troops of Elintor with particular emphasis on Elintoran Sunrise Riders.
Silivethiel
Silivethiel

Weapons

Ivory Blade, Elven Round Shield, Ivory Bow, Ivory Arrows

Armor

Elven Noble Armor, Elintoran Helmet, Elven Greaves, Spider Silk Gloves, Black Elven Horse

Likes

Dislikes

Born at

Connections

Elsinore

Reputation

Martial

Noble

Yes

Cost

8,000
Stats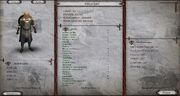 Ad blocker interference detected!
Wikia is a free-to-use site that makes money from advertising. We have a modified experience for viewers using ad blockers

Wikia is not accessible if you've made further modifications. Remove the custom ad blocker rule(s) and the page will load as expected.