Shi Jin
Shi Jin is a foreigner in Perisno who comes from the land of Khergia. Shi Jin himself is a Khergia nobleman's child and also a family member of the Emperor of the land. While he is a great strategist in his homeland, he is also a capable warrior, being one of the elite Black Warriors. He initially comes to Perisno by order of the Emperor to warn Perisno about the upcoming danger: an imminent invasion by the Zann Dynasty. He roams around the land, giving warning to the people of Perisno and searching for a commander to serve. His personality is upstanding; turning him into a lord will make him a valuable vassal.
As a lord, Shi Jin trains the troops of the Zann Dynasty. Black Warriors serve as his household troops.
Shi Jin

Weapons

Strange Great Sword, Strange Short Sword

Armor

Kabuto, Elie Black Yoroi, Suneate Boots, Kote, Black Northerner Horse

Likes

Dislikes

Born at

Khergia (Jin Empire)

Connections

Arish

Reputation

Upstanding

Noble

Yes

Cost

Free
Stats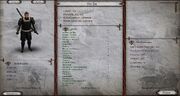 Ad blocker interference detected!
Wikia is a free-to-use site that makes money from advertising. We have a modified experience for viewers using ad blockers

Wikia is not accessible if you've made further modifications. Remove the custom ad blocker rule(s) and the page will load as expected.