Perisno Runed Knight

Culture

Weekly Wages

Acquire From

N/A

Upgrades To

N/A

Perisno Runed Knights are unique troops of the Kingdom of Perisno that can be seen in the army of Nox of Zephilli. Their exceptional skills and equipment allow their small numbers to dominate nearly every enemy on the battlefield.
Nox of Zephilli's unique spawn will field 15-30 of them, making said army exceptionally powerful, particularly when one factors in even larger numbers of Perisno Great Knights, Perisno Zealots, Perisno Crusaders and Squires that march in the same force.
Equipment
Edit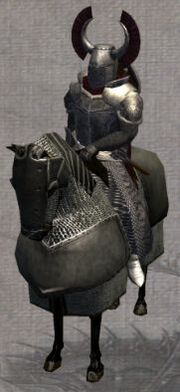 Ad blocker interference detected!
Wikia is a free-to-use site that makes money from advertising. We have a modified experience for viewers using ad blockers

Wikia is not accessible if you've made further modifications. Remove the custom ad blocker rule(s) and the page will load as expected.