Marcus is a disinherited lord of Maccavia and a follower of the New Gods. He was one of the most zealous lords and most ardent supporter of the New Gods. He also provided most of the manpower with his household Crusader Knights. The King, Agathor Krex, sentenced him for treason and shunned him from Maccavia. Agathor also took over his property.
As a lord, Marcus trains troops of Maccavia and also Holy Crusaders, who are his household troops. He is a noble and has an upstanding personality, which means he can be turned into a very good and loyal vassal for the Player's Faction.
Marcus
Marcus

Weapons

New Gods Sword, Black Cross Shield, Axebow, Axebow Axes

Armor

Black Armor, Black Barbuta, Black Greaves, Black and White Gauntlets, Holy Warhorse

Likes

Dislikes

Born at

Connections

Freising

Reputation

Upstanding

Noble

Yes

Cost

20,000
Stats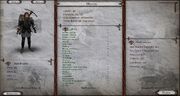 Ad blocker interference detected!
Wikia is a free-to-use site that makes money from advertising. We have a modified experience for viewers using ad blockers

Wikia is not accessible if you've made further modifications. Remove the custom ad blocker rule(s) and the page will load as expected.