Kengesh
Kengesh

Weapons

Elite Scimitar, Decorated Desert Shield, Kuu-lan Bow, Elmwood Arrows

Armor

Brown Plated Armor, Kuu-lan Horseman Helmet, Cavalry Boots, Plated Leather Gloves, Brown Kuu-lan Hunter

Likes

Dislikes

Born at

Connections

Tumatarhun

Reputation

Goodnatured

Noble

Yes

Cost

4,500
Kengesh is a son of Kuulan - the founder of the Kuu-lan Horde. He is also a brother of Boshman Baatur (the current ruler of Kuu-lan Horde), Atabek Aksakal, Atabek Karasakal and Akin Bey. Being a peaceful person and not liking disputes and wars, he never complains about other companions.
As a lord, Kengesh trains Kuu-lan troops with particular emphasis on Kuu-lan Lankesi.
Stats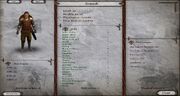 Ad blocker interference detected!
Wikia is a free-to-use site that makes money from advertising. We have a modified experience for viewers using ad blockers

Wikia is not accessible if you've made further modifications. Remove the custom ad blocker rule(s) and the page will load as expected.