Kara
Kara

Weapons

Military Knobbed Mace, Round Cavalry Shield, Light Crossbow, Nobles' Bolts

Armor

Light Mail and Plate, Mail Coif, Red Padded Leather Boots, Rich Leather Gloves, Brown Tolranian Hunter

Likes

Dislikes

Born at

Connections

Lille

Reputation

Goodnatured

Noble

Yes

Cost

Free
Kara is the daughter of a very influential Tolranian Duke (the same one that Alindel has healed before). She was going to have to marry another duke's son in a political forced marriage but she refused to. When her father couldn't force her, he locked her up in her room and put guards outside her room to stop her from escaping. However, the guards were loyal to her and helped her escape so now she is staying at a tavern to hide. She is looking for a good mercenary company to come take her to see the world.
As a vassal, Kara trains the female troops of Kingdom of Perisno and also Maidens of War as her household troops.
Stats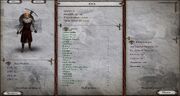 Ad blocker interference detected!
Wikia is a free-to-use site that makes money from advertising. We have a modified experience for viewers using ad blockers

Wikia is not accessible if you've made further modifications. Remove the custom ad blocker rule(s) and the page will load as expected.