Drachenritter

Culture

Weekly Wages

Acquire From

Upgrades To

N/A

Drachenritters are second-tier noble troops of the Reich des Drachen. The Drachenritters are the deadliest horsemen is the Reich's arsenal and some of Perisno's most feared cavalry troops. Their warhorses are heavy and deadly, and the riders themselves are no less lethal. The Plated Chargers can knock most enemies out cold while the riders on top slice those still standing. Their name translates literally to "Dragon Knight".
Equipment
Edit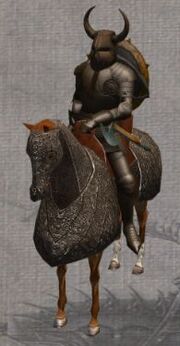 Ad blocker interference detected!
Wikia is a free-to-use site that makes money from advertising. We have a modified experience for viewers using ad blockers

Wikia is not accessible if you've made further modifications. Remove the custom ad blocker rule(s) and the page will load as expected.