Dietrich 

Weapons

Horseman's Pick, Gold Dragon Shield

Armor

Knight's Plate, Dark Sallet with Coif, Knight's Greaves, Black Splinted Leather Gauntlets, Drachen Plated Charger

Likes

Dislikes

Born at

 

Connections

Murdenholl

Reputation

Self-righteous 

Noble

Yes 

Cost

24,000
Dietrich is a mysterious and shadowy figure. You do not know much about him, but one thing you are clear about is that he is from the Reich and he is very dangerous.
As a lord, Dietrich trains the troops of Reich des Drachen with particular emphasis on Drachen Dragoner.
Dialog
Tell me your story again.
I was not born far from here. I will not tell you a lot about myself. I will keep the story short, unlike other people at taverns, who just love to gossip and blab their information as if they have no privacy at all. Such behavior is disgraceful in the Reich. I am a noble lord, and I am what could be called a pioneer of my nation.
Stats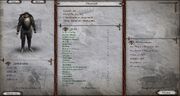 Ad blocker interference detected!
Wikia is a free-to-use site that makes money from advertising. We have a modified experience for viewers using ad blockers

Wikia is not accessible if you've made further modifications. Remove the custom ad blocker rule(s) and the page will load as expected.