Aracanus
Not much is known about Aracanus. He says when you meet him that he is from a time where only the gods walked the Earth, and he wields the legendary sword named FlameBringer. Aracanus states that he is a descendant of the one who forged the sword, so it belongs to him, yet you can take it from him. More info about the sword can be found here. Aracanus likes Tamaris for they are both powerful warriors, and both very tactical.
As a lord, Aracanus trains the troops of Kingdom of Perisno. He's also always accompanied by his bodyguards - Arcane Defenders - some of the strongest soldiers in the world of Perisno.
Aracanus

Weapons

Flamebringer, Armed Winged Mace, Old Age Steel Shield

Armor

Lordly Perisno Twilight Noble Armor, Black Helmet, Perisno Twilight Boots, Perisno Twilight Gloves, Black Plated Charger

Likes

Dislikes

Born at

Connections

Fountain Hall

Reputation

Upstanding

Noble

Yes

Cost

100,000
Stats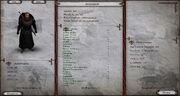 Ad blocker interference detected!
Wikia is a free-to-use site that makes money from advertising. We have a modified experience for viewers using ad blockers

Wikia is not accessible if you've made further modifications. Remove the custom ad blocker rule(s) and the page will load as expected.