Antiope
Antiope is the disowned daughter of a Hakkonese noblemen and used to run her own band of mercenaries, who were all women. She is a terrific archer and currently looks for work in taverns. When she is made into a noblewoman, she will train
Ankars
, including her household troops
Ankars Huntresses
. Her stats all make her a very good archer and comes with a strong bow. 
Antiope

Weapons

Lighsteel Glaive, Ankars Bow, Ankars Arrows

Armor

Ankars Warrior Dress, Elven Greaves, Leather Gloves

Likes

Dislikes

Born at

Connections

Amarna

Reputation

Bad-tempered

Noble

Yes

Cost

6,500
Stats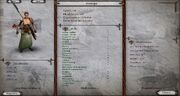 Ad blocker interference detected!
Wikia is a free-to-use site that makes money from advertising. We have a modified experience for viewers using ad blockers

Wikia is not accessible if you've made further modifications. Remove the custom ad blocker rule(s) and the page will load as expected.