Alindel is a renowned doctor in Perisno and has treated many famous people, including a Duke of Tolrania, two Maccavian Lords, and three different Draharan Emirs. This was all a long time ago, in his youth. He is an old man now and is not famous anymore. He spends his last days wandering from tavern to tavern, drinking and wasting away his life. If you can convince him that he still has potential, he may be a valuable asset to you. He has not forgotten any of his skills so hiring him as a doctor could be a very wise idea.
As a lord, Alindel trains Perisno Pilgrims specializing in the "white" branch up to Perisno Holy Champions. Disciples of Faith also often join ranks of his army.
Alindel
Alindel

Weapons

Staff

Armor

White Robe, Headcloth, Townsman's Ankle Boots, Steppe Horse

Likes

Dislikes

Born at

Connections

Forde

Reputation

Benefactor

Noble

No

Cost

3,500
Stats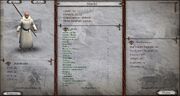 Ad blocker interference detected!
Wikia is a free-to-use site that makes money from advertising. We have a modified experience for viewers using ad blockers

Wikia is not accessible if you've made further modifications. Remove the custom ad blocker rule(s) and the page will load as expected.