Agnare Stormcloak
 Agnare

Weapons

War Scythe 

Armor

Blue Soldier Jacket, Woolen Hood, Blue Hose, Rich Leather Gloves

Likes

Dislikes

Born at

 

Connections

Arendal

Reputation

Quarrelsome 

Noble

Yes 

Cost

Free
Agnare is a priest of the Maccavian Old Gods. He has wandered from tavern to tavern, preaching his beliefs. He is a relatively new priest, and has only recently been accepted into the Old Gods Sect. He has been looking for a mercenary company or a group to join and preach his beliefs to. Not only a preacher, he can also fight well, and has a vast amount of knowledge on different subjects. He is more of a "blank" character, and the player can choose where his talents lie.
As a lord, Agnare trains the troops of Maccavia.
Stats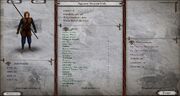 Ad blocker interference detected!
Wikia is a free-to-use site that makes money from advertising. We have a modified experience for viewers using ad blockers

Wikia is not accessible if you've made further modifications. Remove the custom ad blocker rule(s) and the page will load as expected.